Here is the first release of CastingStage, that was first previewed here. It is a simple raytracing engine made using Cocoa. It intends to be lean and mean, easy to use, and to showcase several Mac OS X technologies, such as bindings, CoreData, Grand Central Dispatch, and so on.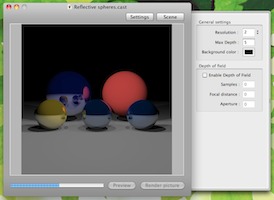 Here are the currently supported features :
Basic primitives handling (spheres and planes)
Reflection and refraction
Point and area lights
Depth-of-field effect
Quick preview of scenes
Anti-aliasing
Document-based application: save and open scenes
Export rendering in various formats
Demonstration scenes included
You can view some screenshots or download the application (requires Mac OS 10.6 for now, Leopard support coming soon). And the code is under the MIT license — so feel free to play with it !